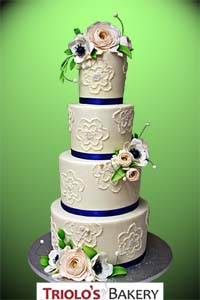 Triolo's Bakery Reviews
We are honored that 9 out of 10 brides who come in for a consultation, sign a contract with Triolo's Bakery for their wedding cake!
Triolo's Bakery has a 5 star rating on Wedding Wire.
We are humbled by the support of the business community, putting their brand names and reputations behind us by carrying our products. In one year, we have over 7,500 followers on Facebook, won the Clash of the Cupcakes against other local bakeries, won awards at the Connecticut Cake Compeition, obtained a 5 star review on Wedding Wire, and we have been validated by local businesses offering our products to their customers.
We are grateful to our community for your acceptance, help, and support We could not have done it without you! Thank you!



Wedding Wire Couples' Choice Award 2015
We are honored to receive the Wedding Wire Couple's Choice Award for 2015! Thank you!
Real Reviews - Real People - Comments From Facebook
Birthday Cake
Customer review:
Nicole Brunini
, September 9, 2014
Best Cake Ever
Birthday Cake
Customer review:
Vanessa Seroll
,
This was the cake that you made for my son! Everyone loved it!
Birthday Cake
Customer review:
Heidi Stuart Chenette
,
We were so pleased with the beautiful and delicious cake. Thank you for all of your hard work!!
Wedding Cake
Customer review:
Mikelle Hickey
,
Thank you Triolo's for making my wedding cake! It was perfect!
Classic Cake
Customer review:
George Haddad
,
It was delicious!!!!!!
Wedding Cake
Customer review:
Patricia Simpson
,
That's my wedding cake!! It came out beautifully! Thank you so much!
Wedding Cake
Customer review:
Monica Burns Mayott
,
I believe this is my wedding cake. I would highly recommend Triolo's for any event. The cake was amazing and Allison is great to work with.
Birthday Cake
Customer
Donna Mouradian Hetzel
,
November 2, 2014
Thank you for a beautiful & delicious cake! Also thank you for *listening*. More often than I care to think about, when ordering cakes from other establishments and telling them of a chocolate allergy in the family, I have come in to pick up the order only to find it decorated with chocolate - despite stressing no chocolate anywhere on the cake including decorations! Triolo listened! We had a worry free experience and everyone enjoyed your delicious cake. Thank you again!
Donation Cake
Customer
Heather Sutton
,
October 22, 2014
The cake at the Manchester Animal Shelter's Wine & Chocolate Fundraiser was amazing! Many people asked about it, and I loved how you could smell the frosting upon entering the room. I had the pleasure of taking photos at the event. You'll find pics on the MAS page, as well as my own. Just wanted to say you guys gained a few new fans over the weekend! - Best Wishes, Heather Sutton