Cakes from Triolo's Bakery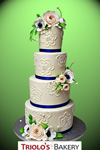 We meet with you, we listen to you, we talk with you, and we draw inspiration from you to create the perfect one-of-a-kind Wedding Cake just for you. With our excellent quality assurance program in place, it is no wonder than 9 out of 10 brides who come in for a consulation, sign up with Triolo's Bakery.

Our signature Entremets offer a palette pleasing light faire. The entremet has evolved from its simple dessert to its modern counterpart as a multi-layered mousse-based cake with various complementary flavors.
Our award winning design team creates cakes for your events and holidays from A to Z. Anniversary Cakes, Baby Shower Cakes, Birthday Cakes, Civil Service Cakes, Communion Cakes, Engagement Cakes, Edible Floral Arrangement Cakes, Graduation Cakes, Handbag Cakes Graduation Cakes, Military Cakes, and Monster Cakes,

We carry a selection of classic cakes in our retail location ready for your same-day party needs. From chessecakes, to vanilla and chocolate buttercream cakes ranging from 6" round to larger, there is something for everybody. Our award winning design team can add an inscription to personalize the cake.

Character cakes and copyright works are available through our Edible Images catalog cake designs. Our design team complements the licensed image with ornamentation to really make your cake pop.