Triolo's Bakery
Wedding Cakes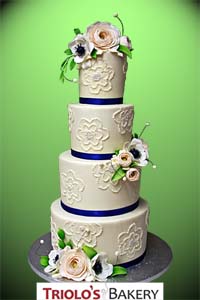 The ceremonial cutting of the cake is the first task a married couple completes together. Here at Triolo's Bakery, our award winning teams take great pride in each cake, which is specifically made to the personalities and wants of the couple. Our skillful baking team will ensure that your cake is the best you have ever tasted. Our creative design team will give you a one-of-a-kind wedding cake masterpiece. We offer complimentary tastings by appointment only. This modern tasting includes a variety of buttercreams and cake flavors, including our signature Red Velvet.
Wedding Cakes Prices start at: USD 4.00 and up depending on artwork, options, and number of servings. Minimum Order: 30 pcs

Cake delivery fees are applied based on mileage driven.




Wedding Cake Options
Cake Flavors
Buttercream Icings
Fillings
Finishing