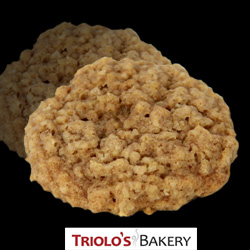 The Oatmeal Cookie

Oatmeal Cookies, with their slightly crispy outside, and soft chewy inside, are a perfect cozy cookie that will remind you of home. A perfect anytime, anywhere, cookie to indulge in, or share with a friend.
Availability
Triolo's Bakery
Baked fresh every morning. Product selection rotates.
Please preorder to ensure availability.
Prices start at:

USD

$ 0.75 ea