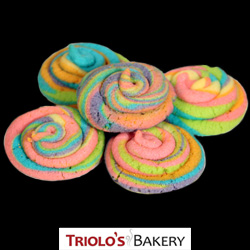 The Unicorn Poop Cookie

Unicorn Poop cookies are one of our favorite cookies here at Triolo's Bakery. Loved by our customers, the cookie changes with the season such as Cupid Poop cookies, Leprechaun Poop Cookies, and Bunny Poop,
Availability
Triolo's Bakery
Baked fresh every morning. Product selection rotates.
Please preorder to ensure availability.
Prices start at:

USD

$ 0.75 ea