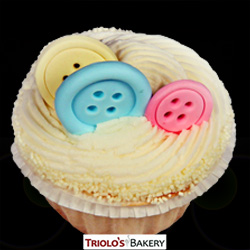 Baby Shower Cupcake

The Baby Shower Cupcakes. Cute as a button and perfect for your baby shower. Baby Shower cupcakes are available in chocolate, red velvet, almond, or marble, and frosted with our homemade buttercream, finished with vermicelli an topped with our baby button accoutrements.
Availability
Triolo's Bakery

Product selection rotates. Can be preordered.

Lead Time:

2

days

.
Prices start at:

USD

$2.75

Minimum Order:

12

pcs


Available in Almond, Chocolate, Marble, Vanilla cake flavors.