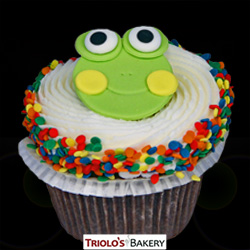 Frog Cupcake

Choice of cupcake flavor filled and frosted with Triolo's Bakery buttercream, and finished with a fun frog face accoutrement.
Availability
Triolo's Bakery

Product selection rotates. Can be preordered.

Lead Time:

2

days

.
Prices start at:

USD

$2.75

Minimum Order:

12

pcs


Available in Almond, Chocolate, Marble, Vanilla cake flavors.